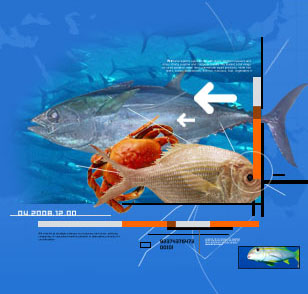 Australian Institute of Marine Science (AIMS)http://www.aims.gov.au/welcome
Commonwealth government organisation which aims to generate and transfer the knowledge needed for the sustainable use and protection of the marine environment through innovative, world-class scientific and technological research.
Australian Museum Fish Sitehttp://www.austmus.gov.au/fishes/about/index.htm
For a comprehensive selection of fish images and common names from scientific names.
Australian Marine Conservation Societywww.amcs.org.au
produces the Sustainable Seafood Guide and regardless of individual opinions about this you should be aware of their information.
AQIS(Australian Quarantine & Inspection Service) www.daff.gov.au/aqis
One of the most useful & necessary information sites. Here is where you find details of what imported fish need import permits, and how to apply for one. Export conditions for live fish and Exdoc lodgement of export documentation. They also regulate and inspect export premises and consignments as well as inspecting imported products.
ATO (Australian Taxation Office)www.ato.gov.au
Of course important to all businesses with special relevance to GST and the food industry, applying for private rulings and many guides & answers, at ATO assist see
FRDC (Fisheries Research & Development Corporation)www.frdc.com.au
Government organisation responsible for planning, funding and managing research and development programs and distribution of the information to assist implementation and commercialisation.
FSANZ (Food Standards Australia New Zealand) is thewww.foodstandards.gov.au
Site for the comprehensive Food Standards Code. Which covers all aspects from general food standards for handling, processing, storage etc.. Plus labelling requirements including a useful nutrition panel indicator and most importantly they are responsible for coordinating food recalls.
SSA (Seafood Services Australia) iswww.seafoodservices.com.au
An important site to visit regularly. Here you can access the latest industry news, including environmental management, seafood safety & quality, fact sheets, training information & information about the industry development fund. It is also the reference site for the increasingly important fish names reference. You can look up what names must be used or even apply for a new listing.
State organisations of possible interest include:
Melbourne Seafood Centrewww.melbourneseafoodcentre.com.au
The Melbourne Seafood Centre is the exciting new replacement for the old Fishmarket.
NSW Fisherieswww.fisheries.nsw.gov.au
Vested with the responsibility of conserving, developing and sharing the fisheries resources of the State to maximise benefits for present and future generations.
NSW Food Authoritywww.foodauthority.nsw.gov.au
The government organization that helps ensure food in NSW is safe & correctly labeled.
QLD Safe Foodwww.safefood.qld.gov.au
The state body established to ensure the reliability and safety of the Queensland food chain.
Sydney Fish Marketwww.sydneyfishmarket.com.au
The Sydney Fish Market has an excellent site giving prices & industry information, health and safety, the Sydney Seafood School and it's excellent internet trade site.
VIC Food Safetywww.health.vic.gov.au/foodsafety
Provides information about food safety & regulation for food businesses.
VIC Primesafewww.primesafe.vic.gov.au
Also responsible for seafood safety & licensing information.
Weight measurement & marking is an important issue controlled by a new federal government body :